1SU41003
In Stock
- Ships Today
Reliance SP500 NEMA1 3 HP AC Drive. Call Now!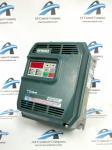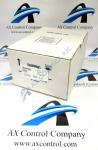 Click here to load more images
1SU41003
In Stock
- Ships Today
Reliance SP500 NEMA1 3 HP AC Drive. Call Now!
Speak to our customer service team:
Check out our comprehensive warranty.
And our exchange program.
Product Description
1SU41003 is an SP500 drive that is manufactured by Reliance Electric. The rated horsepower of this drive is 3.0 HP, and this drive is contained in a NEMA 1 or chassis style enclosure. The rated voltage is 380-460 VAC. The enclosure size for this drive is size B. The dimensions of Enclosure B are 301.7 mm (11.88 in) (H) x 160.1 mm (6.3 in) (D) x 222.3 mm (8.75 in) (W). The weight of enclosure B is 5.4 kg (12 lb).

The user can identify drive faults via fault codes on the display. OCd is the code for the overcurrent at deceleration fault. This fault is caused by either an overcurrent condition that occurred while the drive was decelerating, or a too-short deceleration time. In order to correct this fault, increase the deceleration time. OF is the code for the overfrequency fault. This fault is caused by the drive exceeding the maximum allowable output frequency, the regenerating energy is too high, the stability or slip compensation circuit is adding frequency reference, the motor is too small, and/or if H.016 is ON, the searching current is too high. In order to correct this fault, increase deceleration time, check the slip compensation, and/or check the motor size v. the power module size. OH is the code for the drive overtemperature fault. This fault is caused by a cooling fan failure. In order to correct this fault, check the ambient temperature, the cooling fan, and the minimum clearances around the drive.
1SU41003 Technical Specifications
Manufacturer:

Reliance Electric

Series:

SP500

Part Number:

1SU41003

HP:

3 HP

Input Voltage:

380-460 VAC

Enclosure:

NEMA 1 or Chassis

Hz:

50/60Hz

Labeling:

UL Listed, IEC Certified
Frequently Asked Questions About 1SU41003
What are the input and output amps on 1SU41003?
1SU41003 has 6.4 input amps. 1SU41003 has 5.3 output amps.
What phase is a Reliance 1SU41003?
1SU41003 is a three phase drive. All SP500 model numbers 1SU4xxxx drives are three phase, including 1SU41003.
Where can I find a manual for 1SU41003?
We can send you a link to the manual that goes with 1SU41003. The manual for 1SU41003 is the SP500 AC Drive Installation and Operation Manual - Manual D2-3356.This manual breaks down the 1SU41003 model number and the manual will help with troubleshooting a 1SU41003.