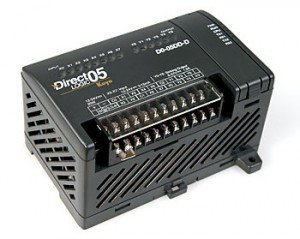 The Automation Direct DirectLogic 05 product line consists of micro PLCs which were manufactured to fit more applications than any other PLC of their size. The DL05 line consists of eight different models that all preform that same basic functions. The DirectLogic 05 is designed with special features like... A removable connector Two communication points They provide a low cost option for your PLC needs and are highly adaptable for your machines and process control applications. Facts Engineering also manufactured certain specialty modules which are cross listed between Automation Direct and Facts Engineering
---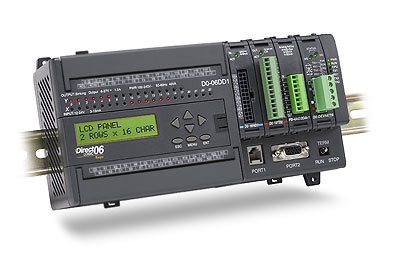 The Automation Direct Koyo DirectLogic 06 Micro Programmable Logic Controller product line consists of nine different models but all complete the basic functions. The DL06 is equipped with standard features such as... PID High Speed Counter Floating Point A Optional Liquid Crystal Distplay The DL06 combines fixed I/O with 4 option slot cards for expansion. This line includes integrated high-speed inputs and pulse output, thermocouples and RTD temperature inputs, and multiple communication ports. Certain specialty products are cross listed between Facts Engineering and Automation Direct.
---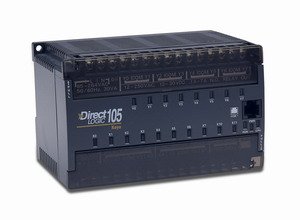 Automation Direct Koyo DirectLogic 105 Micro Programmable Logic Controller line is made up of eight versions of micro PLCs. The DL105 PLC's are compact PLC's made with the power and capabilities of larger systems but reduce the amount of energy and footprint you have. The DL105 PLC's include features such as... 10 Input and 8 Outputs 2K Program Memory 7 Amp Relay Outputs 8 Input/Output Configurations Our large inventory of New and Remanufactured surplus allows us to offer the lowest prices on the market for these modules. Various specialty modules are cross listed between Automation Direct and Facts Engineering.
---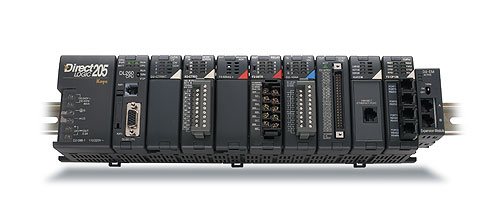 The Automation Direct Koyo DirectLogic 205 Modular DL205 PLCs are a line of micro-modular PLCs with a variety of Input/Output and Communication Modules. The DL205 family is not only low cost but also versitile in its applications. The DirectLogic 205 family is made up of three CPU's and all have a large memory. The DL230 The DL240 The DL250The DL205 line has four different base units available; 3 slot, 4 slot, 6 slot, and 9 slot and all have a built-in power supply. The DL205 is designed to support 256 input/output points and some models can be expanded by adding a remote I/O. Facts Engineering produced certain specialty modules which are cross listed with Automation Direct.
---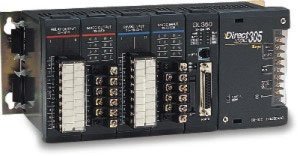 The Automation Direct Koyo DirectLogic 305 product line consists of small modular PLCs that offers a reliable performance and great value. The DL305 PLC family provides... Central Processing Units Relay Outputs Alternate Current Direct Current The DirectLogic 305 also comes with a base unit that is avaiable in multiple sizes. 5 Slot 8 Slot 10 Slot The Direct Logic 305 is available in two programming methods, the RLL and the RLL plus. It is equipped with a variety of modules that support 24VDC, 125VDC, and 110/220VAC and is designed to support up to 10A relay outputs. Facts Engineering manufactured various specialty modules with are cross listed as Automation Direct.
---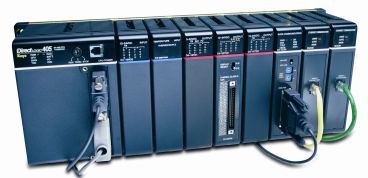 The Automation Direct Koyo DirectLogic 405 PLC family provides a process control system which is notable for the power it generates in relation to its small size and the low prices at which it available. The DL405 is made up of three CPU's; the DL430, DL440, and the DL450.All Model come equipped with A built-in power supply Communication ports A large program memory Advanced diagnostics Specialty F4 modules are cross listed between Automation Direct and Facts Engineering.
---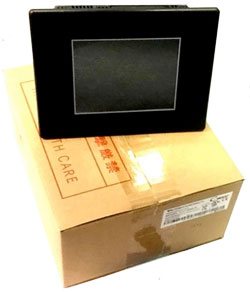 Automation Direct EA7 Series Touch Panel HMI C-More Operator Interface. The EA7 is equipped with an LCD touchscreen display that allows the user to easily operate. With the EA7, the user can view information about the PLC, adjust features, and send directions to the PLCs and Drives. We have both new and used available for purchase.
---
The EA1 Series C-more Micro Graphic Touch Panels consist of 3, 4, and 6 inch user friendly HMI Displays. The EA1 series comes fully equipped with a LCD display, 128 x 64 dot monochrome display, and five backlight color options. All models include features such as a 768 KB memory, keypad, built-in alarm control. We have a variety of models in stock to match your device needs.
---