1SU41001
In Stock
- Ships Today
In Stock! Reliance SP500 Drive 2.5 AMP 1 HP 3 Phase. Call Now!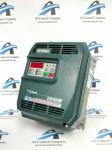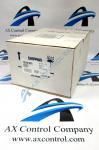 Click here to load more images
1SU41001
In Stock
- Ships Today
In Stock! Reliance SP500 Drive 2.5 AMP 1 HP 3 Phase. Call Now!
Speak to our customer service team:
Check out our comprehensive warranty.
And our exchange program.
Product Description
Reliance Electric manufactures the SP500 drive series, of which 1SU41001 is a part. The rated horsepower for this NEMA 1 (chassis enclosure) drive is 0.25-1.0 HP. The rated voltage is 380-460 VAC. The enclosure size for this drive is size B. The dimensions of Enclosure B are 301.7 mm (11.88 in) (H) x 160.1 mm (6.3 in) (D) x 222.3 mm (8.75 in) (W). The weight of enclosure B is 5.4 kg (12 lb).

A number of fault codes help the user identify faults on the drive. nCL is the code for the network comm loss fault. This fault is caused when communications with the AutoMax network have been lost. In order to correct this fault, first check the network cabling from the network master to the network option board. Then check that the network master is operating correctly. nld is the code for the Identification Request not yet performed fault. This fault is caused when the drive has started but the Identification Result = Zero. In order to correct this fault, reset the fault, perform another Identification request, and restart the drive. OCA is the code for the overcurrent at acceleration fault. This fault is caused by either an overcurrent condition that occurred while the drive was accelerating, or a too-short acceleration time. In order to correct this fault, increase the acceleration time. OCb is the code for the overcurrent at DC braking fault. This fault is caused by a DC voltage that is too high. In order to correct this fault, check parameters H.006 and H.007.
1SU41001 Technical Specifications
Manufacturer:

Reliance Electric

Series:

SP500

Part Number:

1SU41001

HP:

1 HP

Input Voltage:

380-460 VAC

Enclosure:

NEMA 1 or Chassis

Hz:

50/60Hz

Labeling:

UL Listed, IEC Certified
Frequently Asked Questions About 1SU41001
Is the 1SU41001 SP500 drive still manufactured by Reliance Electric?
Although the 1SU41001 is now obsolete, AX Control continues to stock both New Surplus and Reconditioned drives. We are able to purchase unused drives from factory stock shelves and refurbish decommissioned drives in our facility.
Can AX Control troubleshoot and repair my 1SU41001?
We offer in-house repair options for all SP500 drives. Our normal lead time for the 1SU41001 is 3-4 weeks, but we have expedited repair options available upon request. Please ask our sales representatives for a repair quotation and RMA#.
What are some common Fault Codes or Error Codes that occur on the 1SU41001?
One of the most common fault codes is the FL code, which simply means that the function loss input signal has been asserted. To fix and clear this code you will want to put a jumper between terminals 10 and 11.
The LU fault code is seen quite commonly with the 1SU41001 SP500 drive. This error code indicates low bus voltage and can sometimes result from a momentary power dip or loss. The corrective action for this fault code is to check incoming power or install an isolation transformer if required.
What does the NEMA 1 rating on the 1SU41001 indicate?
The NEMA 1 rating on the 1SU41001 indicates a vented drive cover that can be used for a variety of applications. Because of the lack of protection, the NEMA 1 rated cover is ideal for indoor applications.
Does AX Control supply the 1SU41001 SP500 installation and operation manual?
We are happy to send a link to the SP500 instruction manual D2-3356-5. This manual includes both installation instructions as well as a detailed list of the parameters. All drives are set to factory defaults prior to shipment and will need to have the correct parameters entered for your application.