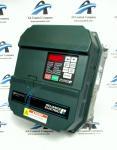 Click here to load more images
Speak to our customer service team:
Check out our comprehensive warranty.
And our exchange program.
7V4160 Technical Specifications
Manufacturer:

Reliance Electric

Series:

GV3000

Part Number:

7V4160

HP:

7.5 HP

Input Voltage:

380-460 VAC

Enclosure:

NEMA 1

Keypad/Display:

Built-In Keypad

Phase:

3 Phase

Hz:

50/60Hz

Instruction Manual:

D2-3359 & D2-3360
Frequently Asked Questions About 7V4160
What is the input KVA for 7V4160?
7V4160 has a 10.7 KVA input.
What are the accel and decel parameters on 7V4160?
The accel parameters on 7V4160 are parameter P.002, the accel time 1 (RAMP 1) parameter, and parameter P.017, accel time 2 parameter (RAMP 2). The deccel parameters on7V4160 are parameters P.002 and P.018. Parameter P.002 is 7V4160's decel time 1 (RAMP 1) parameter. Parameter P.018 on 7V4160 is the decel time 2 (RAMP 2) parameter.
Where does output power wiring connect to 7V4160?
Output power wiring connects to terminal U/T1, V/T2, and W/T3 on 7V4160. For output wiring on 7V4160, use a wire no greater than 12 AWG.
How can I find the manuals for 7V4160?
You can most likely find the manuals for 7V4160 on our website, but if you're having trouble finding the manuals, send us a request for 7V4160 manuals and we'll send you the links. Manual D2-3359 is the software manual for 7V4160 and Manual D2-3360 is the hardware manual for 7V4160. Both manuals cover 7V4160 in its entirety.