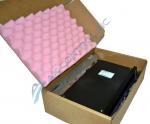 Description:
In Stock ! Reliance Electric AutoMax 61C544 RTD Analog Input 16 Point Module 61 C 544 Call Now!
61C544 Technical Specifications:
| | |
| --- | --- |
| Manufacturer: | Reliance Electric |
| Series: | AutoMate PLC |
| Part Number: | 61C544 |
| Product Type: | RTD Input Module |
Frequently Asked Questions About 61C544:
What does 61C544 control?
61C544 drives a 14-bit A/D converter once the 61C544's 16 pairs of measurement inputs are multiplexed to an instrumentation amplifier.
How much input do the channels on 61C544 have?
The channels on 61C544 have 100 Ohm platinum RTD input.
What are some features of 61C544?
61C544 has several features. 61C544 has broken wire detection, automatic calibration, 4 alarm setpoints per channel, 12 bit resolution plus sign, and a couple other features.
61C544

In Stock | Ships Today
Speak to a sales representative for pricing & lead time:
Phone: 1-800-991-7026
International: 1-919-372-8413
Email: sales@axcontrol.com
Exchange Credit Program plus FREE Shipping
With the purchase of most automation parts for replacement, AX Control Inc. provides an exchange credit program for your defective item. This process will allow your machine to be put back into production quickly and at the lowest possible price. Additionally, we will cover the shipping expenses for the return of your defective item.
Benefits
Lowers your support costs
Provides on-going availability of automation replacement parts
Go Green

and help recycle defective items
Repair Warranty
• 3 Year Warranty for all PLCs and HMIs
• 2 Year Warranty for all AC/DC & Servo Drives
• 1 Year Warranty for all Motors
Repair Time
• Standard 2-4 Week Repair
• 5-7 Day Rush (+10% or $50)
• 48 Hour Emergency Rush Repair (+25% or $100)

Free Shipping
We are pleased to cover the cost of domestic ground shipping to and from our facility during the repair.
Alternate Part Numbers
Main Image


Secondary Image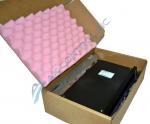 In Stock ! Reliance Electric AutoMax 61C544 RTD Analog Input 16 Point Module 61 C 544 Call Now!
Rated
0
/5 based on
0
ratings.