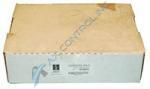 Click here to load more images
Speak to our customer service team:
Check out our comprehensive warranty.
And our exchange program.
HE693OIU910 Technical Specifications
Manufacturer:

Horner

Series:

GE Fanuc Series 90-30

MPN:

HE693OIU910

Type:

Operator Interface Unit
Frequently Asked Questions About HE693OIU910
What are the main parts within the HE693OIU910?
The HE693OIU910 is made up of six parts; the keypad, main circit board, a VFD display, a power circit board, GENI board, and a aluminum protective cover.
What is the function of the 4-pin Genius bus connector on the HE693OIU910?
Each pin on the 4-pin Genius bus connector has a different function. Pin 1's signal is serial 1, pin 2's signal is serial 2, pin 3's signal is sheild out, pin 4's signal is sheild in.
Will AX Control provide a warranty for the HE693OIU910?
AX Control will provide a three year warrantly on your HE693OIU910 for basic wear and tear. AX Control will provide a three year warranty on all HMI's.