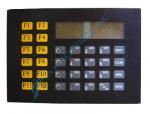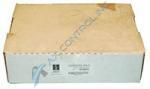 Click here to load more images
Speak to our customer service team:
Check out our comprehensive warranty.
And our exchange program.
Product Description
HE693OIU157 is a Horner APG Operator Interface Unit that is manufactured for the HE693OIU series. The dimensions of this unit are 89 mm (h) x 152 mm (w) x 54 mm (d). The 5 VDC power requirements are 250 mA. The 24 VDC power requirements are 120 mA. The DC power on the current surge is 1 amp/30 ms. The operating temperature should be 0 to 60°C. The enclosure is a NEMA 4-12. The Production Information screen can be used for production count and parts per hour. The Machine Status screen can be used to measure temperatures and pressures. The Machine Setpoints screen can be used for timer setpoints. The Operator Prompting Screen can be used to start the motor and start the pump. The Alarm Enunciation screen appears when there is a motor overload trip. The troubleshooting screen can be accessed with a password and allows for PID setpoints.

Screens may be accessed by the operator directly from the keypad, directly from the keypad with a password, forced by the screen chaining option, and forced by the PLC. Screens 0-3 are Production Information screens. Screens 4-10 are Machine Status screens. Screens 11-13 are Machine Setpoints screens. Screens 14-100 are empty for future expansion. Screens 101-115 are Operator Prompting screens. Screens 116-121 are empty for future expansion. Screens 121-152 are Alarm Enunciation screens. Screens 153-200 are empty for future expansion. Screens 201-205 are Troubleshooting/Critical Setpoints screens. Screens 206-249 are empty for future expansion. There are 2 levels of passwords that can be applied to restrict OIU access.
HE693OIU157 Technical Specifications
Manufacturer:

Horner

Series:

GE Fanuc Series 90-30

MPN:

HE693OIU157

Type:

Operator Interface Unit
Frequently Asked Questions About HE693OIU157
What power requirement for the HE693OIU157?
The HE693OIU157 power requirement is 5V. If the HE693OIU157 is placed more than 10 feet away from the PLC, a external power source is needed.
What type of display is on the HE693OIU157?
The HE693OIU157 is equipped with a LCD screen.
Can AX Control provide a warranty for my HE693OIU157?
AX Control can provide a 3 year warranty for any HMI including the HE693OIU157. If the device isn't functioning from daily wear and tear, the warranty is applied.