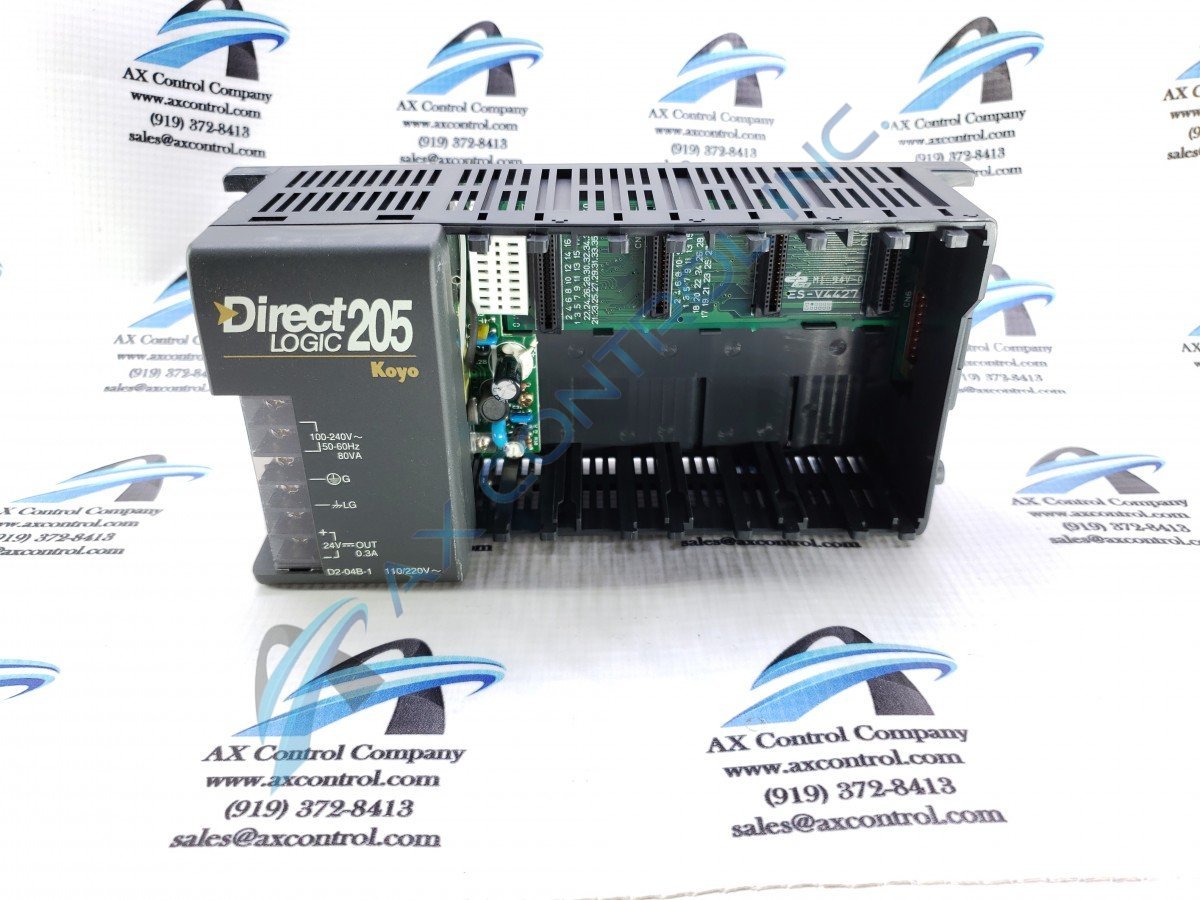 Here at AX Control, we field a lot of questions about the devices we sell. This is the first in a series of posts that will answer some of those FAQs. This post will focus on the Koyo Direct Logic 205 series.
What is the Koyo Direct Logic 205?
Automation Direct DirectLOGIC 205 controller is a micro-modular programmable logic controller. These PLCs have a built-in power supply and come in 3-slot, 4-slot 6-slot, and 9-slot versions. Certain versions of the DL205 support up to four expansion bases.
How can I load programs onto a DirectLogic 205 PLC?
Downloading a program and connecting to the Koyo DirectLogic PLC is covered extensively in the AutomationDirect manual. Here are the basic steps:
Start the Linking Process by connecting via the PLC menu bar(first option in the dropdown menu.)
Add a new link by clicking "Add to" in the 'select link' pop up menu. If you have created previous communications links the menu will give you the option to select which link you want to proceed with.
Select a COM port. You should have previously connected a communications cable to your desired COM port. Now re-enter that COM port location into the pop-up menu and hit "Next."
Select a PLC family from the pop-up menu. In this case, you will choose 105/205/405 family.
Select your communications protocol. Leave the PLC address set to the default.
At this point, your computer should establish an Auto-link. Then it will ask you to enter a description and a name for your link. Make sure to enter a name, which is required. You're finished.
Connection via a Modem is trickier. This typically requires a D2-DCM data communication module that can act as a DirectNet peer or a DirectNet master/slave. This module can also be used as a MODBUS RTU slave.
Another option is adding an H2-ECOM100 Ethernet Communication Module. This module uses MODBUS TCP/IP protocol via hubs, repeaters, and cables.
How do I add a timer to a DirectLogic 205 PLC?
If you're wondering how to add (program) a timer in your Koyo Direct Logic 205 system, there are two basic ways to do this. The number of timers available will depend on the model of CPU you're using. Regardless of the number available, you can access timer status bits. These will give you the relationship between the pre-set value of a specific timer and its current value.
The first way to program a timer is by performing functions as the timer reaches a specified preset, using the discrete status bits. The second way is by using comparative contacts to perform functions at different time intervals, based upon a single timer. Both of these actions require the timer and counter status bit maps, which are located in the DL205 manual (section 3-55). If you no longer have this publication in your possession, please let our sales reps know when you place an order with us.
How do I Export Tags to a DirectLogic 205 PLC?
The answer to this question really depends on the HMI interface you're using. Since it varies so much from system to system, we're unable to give a specific answer. Our best suggestion is to refer to your HMI manual or search for how-to videos relating to how your HMI interfaces with the DL205 for more detailed information.
What Information Does the Part Number Offer?
You can tell a lot from just the part number. For example, if your part starts in D2 or F2, it's part of the DL205 series. However, parts starting in D3 or F3 belong to the DL305 series, while D4 or F4 parts belong to the DL405 product family.
The rest of the part number will help you determine the number of channels and whether the unit is an input or output. For example, part number F2-08AD-1 denotes a DL205 8-channel input module (analog to digital.) CPUs, bases, discrete I/O, and other modules have their own special rules. However, all modules typically begin with D2 or F2.