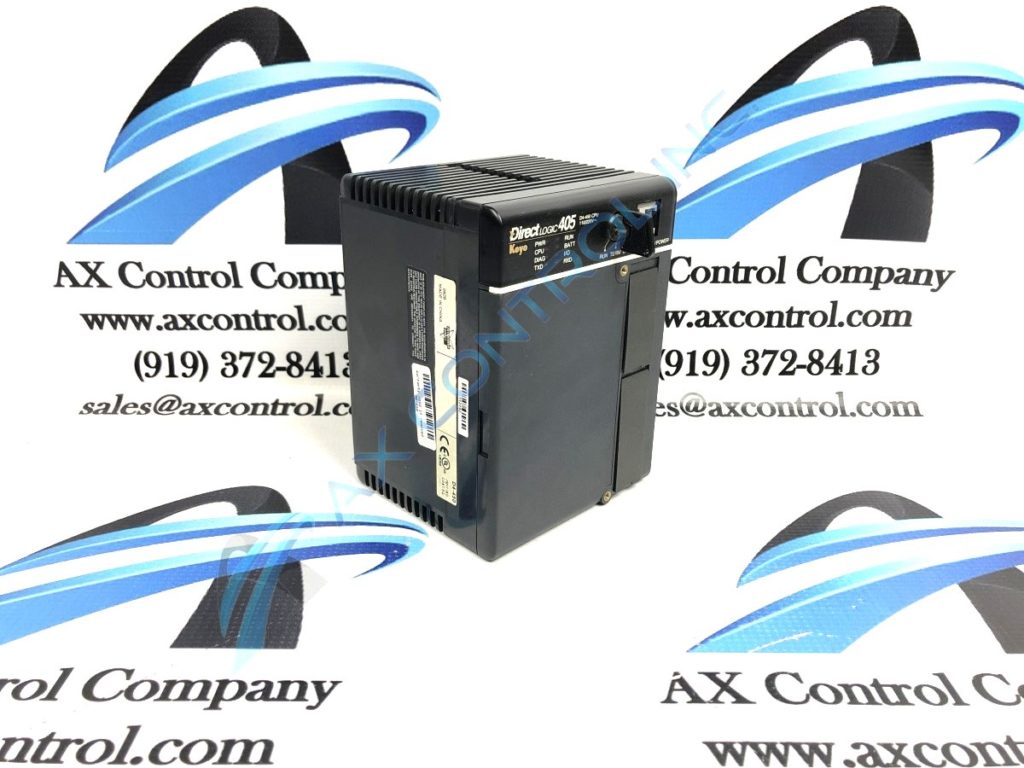 The DirectLogic 405 from Koyo is a modular controller with built-in PID instruction. End-users can add a number of different I/O modules to this low-cost controller to create configurations that meet their particular needs.
The DirectLogic 405 offers up to 3,500 local or distributed individual remote I/O points. The I/O and specific PID (proportional integral derivative control) allows command of processes like position, velocity, and temperature. One of our earlier blogs talks more about PID.
DirectLogic 405 Features
As a modular PLC, the DirectLogic 405 uses specialty and expansion modules to complete the system. This includes modules like
High-Speed Counters
PID Modules
SDS Modules
Input Simulators
4-loop Temperature Controller
Filler Modules
Interrupt Modules
Relay Output Modules
Analog Modules
The DirectLogic 405 PLC offers three CPU modules. This includes the DL430, the DL440, and the DL450. All units offer built-in power supplies and communication ports. They have built-in diagnostics, significant program memory, and a substantial instruction set. However, the CPUs vary in initialization speeds, time required to read input status, and communication request speeds. Also, I/O support may change between modules. Additionally, the DL450 has drum timers and built-in PID loops, along with extra communication ports.
DirectLogic PLC: Uses
The DirectLogic PLC supports 4-20 mA, 0-20 mA, 0-5 V, 0-10 V, 1-5 V, +/-5 V, and +/-10 V. As a low-cost controller with a wide number of application options, the DL405 is popular for many applications. It is widely used in industrial applications where data communications or RTD/thermocouple inputs are required.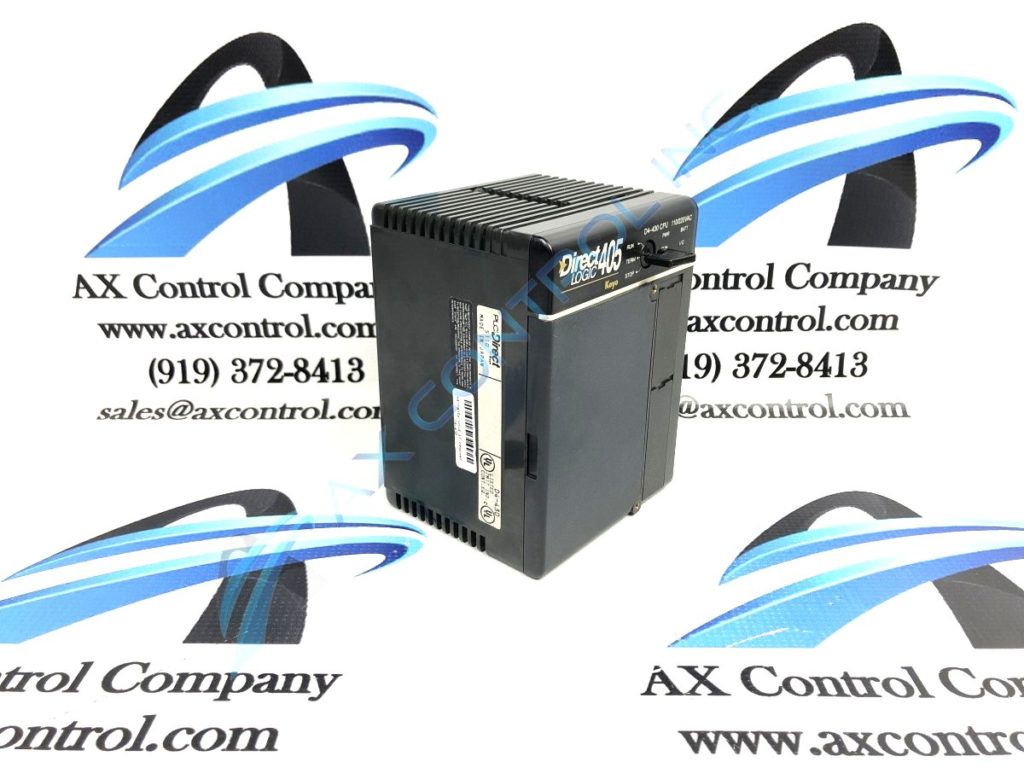 DL405 Port Comparison
The DL450 offers more network ports than the DL430 or DL440. In comparison, the DL450 includes two network ports. These can serve as ModBus masters or slaves, or as DirectNET masters or slaves.
The DL430 and the DL440 have two built-in communication ports. Meanwhile, the DL450 has four.
Other DirectLogic 405 FAQs
At AX Control we field many questions about our DL405 inventory. Here are the answers to some of the most frequently asked questions.
Do DL405 PLCS offer Ethernet capability? Yes. Order an H4-Ecom Module if you require Ethernet.
What about Modbus protocol? If you have a DL430 or DL440 CPU, you will need a F4-MAS-MB master or a F4-SLV-MB slave module for Modbus. However, a DL450 CPU can support Modbus on port 1 or port 3.
Can the DL405 reset to factory defaults? Yes, it can. We can help with this. If you are resetting equipment in your possession, we suggest referring to directions in the DL405 manual for taking the CPU back to factory defaults.
Can AX Control provide PLC training or PLC programming manuals for DL405 products? Our staff is always happy to help our customers with whatever information we have at our disposal.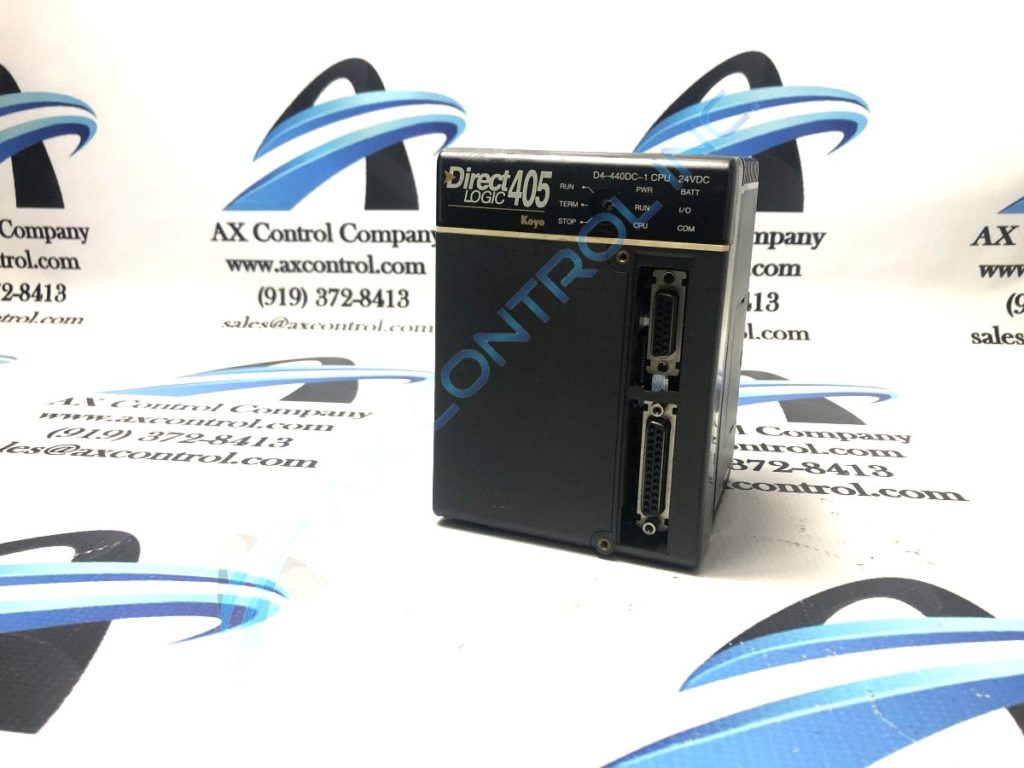 Our staff is always ready to help with any Automation Direct components you may need. Talk to us today.