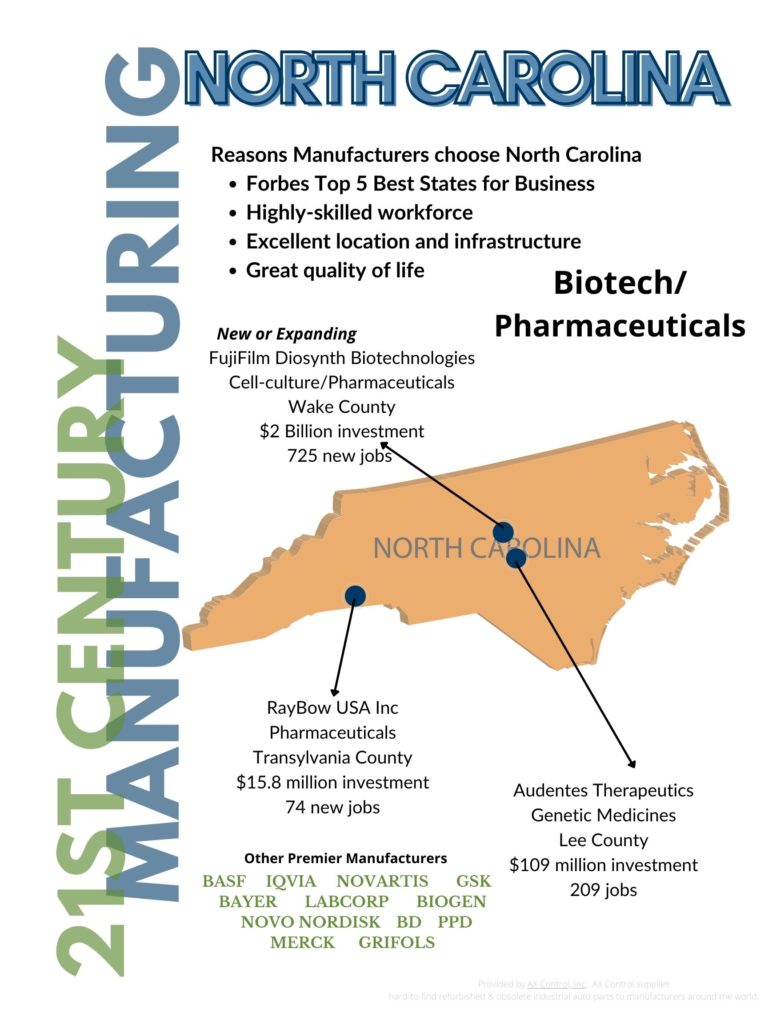 The COVID-19 pandemic changed a lot, but it hasn't changed what makes North Carolina great for manufacturing. An experienced and educated workforce, excellent transportation systems to move goods, favorable tax rates, and investment incentives all help manufacturing thrive. Certainly, North Carolina offers all of this and more.
In fact, North Carolina topped Forbes' Best State for Business three years running. In this case, North Carolina ranked highly because of metrics like business costs, labor supply, economic climate, growth prospects, and quality of life. Similarly, the state ranked highly on business lists by CNBC and Site Selection Magazine.
NC's Long Manufacturing History
Manufacturing has been a primary driver of the state's economy since the late 1800s. By the late 1920s, North Carolina was a leading textile manufacturing state. Meanwhile, furniture and tobacco products also contributed to employing over 80,000 workers, or 3% of the state's population at that time.
World-class educational system
North Carolina's state university and community college system offers top-tier training to the future workforce. In fact, the community college system, which spans 58 campuses, is the country's third-largest and is a primary talent pipeline for businesses relocating to the state.
Additionally, elite research universities like NC State, Duke, and UNC provide support to companies through partnerships that drive innovation. These partnerships have the added benefit of both creating jobs and turning out students prepared to do them. North Carolina schools produce more than 25,000 STEM graduates each year.
As manufacturers struggle to find enough qualified workers, it should also be noted that North Carolina remains one of the top three states for net in-migration. The state's population is expected to surpass 11 million by 2030, growing at twice the US average.
New Business Incentives
According to one recent report, North Carolina now ranks third overall for the lowest effective business state tax rate for new companies. For established companies, North Carolina remained in the top five.
Meanwhile, the North Carolina Rural Infrastructure Authority (RIA) recently approved multiple grant requests to support rural North Carolina's continuing growth and goal to attract new businesses, including manufacturers. This includes
A $190,000 grant to the City of Rocky Mount that will aid in the relocation of SePro Corporation, a manufacturer of value-added aquatic and horticultural applications. (20 jobs created, $2.3 million investment.)
A $475,000 grant to Guilford County that will support the relocation of Guerrilla RF, Inc, a MMIC manufacturer. (50 jobs created, $5.5 million investment.)
A $250,000 grant to Sampson County that will support the opening of Garland Apparel Group, LLC. This start-up textile manufacturer will create PPE products, military shirts, and dress shirts. (160 jobs, $316,215 investment.)
A $446,000 grant to Halifax County that will support business development by Roseburg Forest Products. The sustainable wood-based products manufacturer will place a high-tech sawmill operation on the site. (137 jobs $182.5 million investment.)
Superior Logistics and Location
North Carolina makes it easy for manufacturers to ship products by truck, rail, or sea. Centrally located on the East Coast, North Carolina's superior road and rail system puts millions of customers within a day's delivery. In fact, over fifty percent of Americans live within a 24-hour drive of North Carolina.
Moreover, the state has two deep water ports on its coast and easy access to two more located in neighboring states. In addition, four international airports and many regional ones offer convenient connection points to domestic and international locations.
Well-Known Companies Coming to NC
The last few years have brought dozens of new companies to the area and many expansions at facilities already here. For example, aircraft engine manufacturer Pratt & Whitney is building a facility in Asheville.
As a result, the company expects to save $175 million by locating in North Carolina. This win/win partnership will bring 800 jobs to the area, averaging $68,000 a year. Meanwhile, Pratt & Whitney maintains lower costs and a high-skilled workforce trained specifically for them. Prior to their decision, Pratt & Whitney worked with local community colleges to create onboarding programs for the skillsets they would need.
Other manufacturing companies relocating or expanding their presence in North Carolina include
Doosan Bobcat North America. The company makes portable power products and Bobcat equipment. The $70 million expansion of their Statesville manufacturing complex will add up to 250 jobs over five years.
Thermo Fisher Scientific. The company makes vaccines and critical medicines. The expansion of its Pitt County facility will add 290 new jobs.
Steffes, LLC. The steel fabrication company will build a new manufacturing facility in Cleveland County, investing $20.9 million and adding 130 new jobs.
Polywood. The company makes outdoor furniture from recycled plastics. The expansion of its Person County facility will add 300 jobs over five years.
Arrival. The company makes electric vehicles. Its second U.S microfactory will be located in Charlotte and will create 250 new jobs.
Manufacturers across sectors rely on AX Control, Inc for reliable industrial automation replacement parts to keep their facilities running. Next time you need a part, reach out to our team.
If you like our graphics feel free to download individual pages here:
21st-Century-Manufacturing-NC

21st-Century-Manufacturing-NC-1

21st-Century-Manufacturing-NC-2