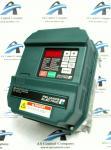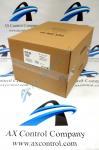 Click here to load more images
Speak to our customer service team:
Check out our comprehensive warranty.
And our exchange program.
5V4160 Technical Specifications
Manufacturer:

Reliance Electric

Series:

GV3000

Part Number:

5V4160

HP:

5 HP

Input Voltage:

380-460 VAC

Enclosure:

NEMA 1

Keypad/Display:

Built-In Keypad

Phase:

3 Phase

kW:

4.0kW

Hz:

50/60Hz

Instruction Manual:

D2-3359 & D2-3360
Frequently Asked Questions About 5V4160
How many input and output amps does 5V4160 have?
5V4160 has 9.9 input amps when 5V4160 is at 380-460 VAC. 5V4160 has 8.2 output amps whether 5V4160 has a 2, 4, or 8 kHz carrier frequency.
Which manuals pair with 5V4160?
Manuals D2-3359 and D2-3360 are the manuals that pair with 5V4160. These are the GV3000 NEMA style software and hardware manuals for 5V4160, respectively. For copies of the manuals, send us a request for the manuals for 5V4160.
What is the overcurrent IET on 5V4160?
5V4160 has a 200% load overcurrent IET.
What does the "Aln" fault code indicate on 5V4160?
The "Aln" fault code on 5V4160 indicates an analog input signal loss fault on 5V4160. This fault cause comes from parameter P.011 being equal to 4 or 5 and 4 to 20 mA analog input below 2 mA on 5V4160 and to correct this fault on 5V4160, you have to make sure parameter P.011 is set correctly on 5V4160. Another corrective action for the fault is to check that the analog input source supply for 5V4160 is below or equal to 4 mA.